What I Got For My 22nd Birthday
My 22nd Birthday!🎊 🎉
Hey beauties, I'm really excited to finally share with you guys what I got for my 22nd birthday. Its officially been a month since my birthday and im finally posting this for you guys (im lazy sorry). My birthday was on November 14th, but we celebrated on November 15th (my younger sisters birthday). My sisters, brother in law, and I went to a restaurant in Burlington called Hibachi teppanyaki. The restaurant was amazing I will definitely eat there again. it was one of those restaurants where they have a chef cook the meals in front of you while doing tricks and playing with fire lol.
Anyways, if you want to see what I got for my birthday from my lovely friends and family just keep on reading!
Let's get started..
The First Gift.
I received this gift from my younger sister, which is four amazing and pigmented @Colourpop eyeshadows that I could add to my Z-palette. I have purchased from Colourpop before and I love every single one of their products that I've bought so I knew that I'd love these eyeshadows right when I saw them.
These are the colours that my sister got for me. Colours that I do not have in my Z-palette which was a really nice gift! I am obsessed with all these colours, being able to do creative eye looks and have fun with makeup is something that I enjoy.
Check out the swatches..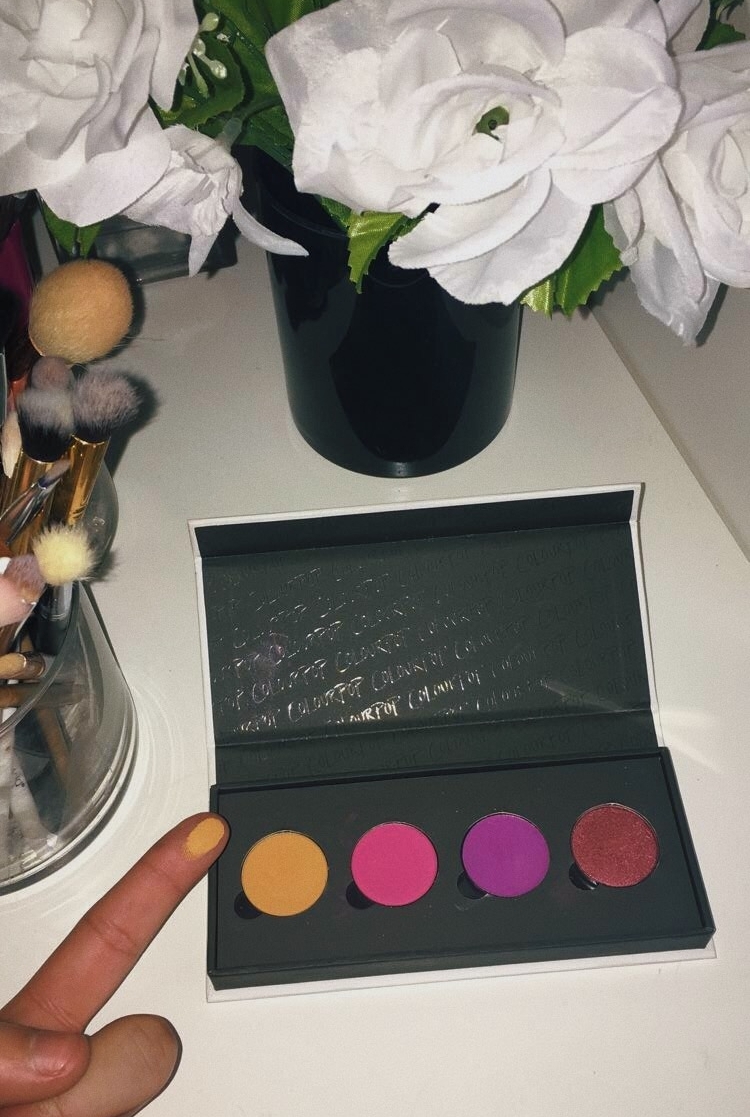 'Pinky Promise'
($4.00 USD)
When you purchase four eyeshadows they often times give their customers a palette (just like the one in the photos) where you can put the pressed eyeshadows in.
This is very convenient because when purchasing pressed single eyeshadows it becomes hard not knowing where to store them if you do not have a Z-palette.
The Next Gift.
My younger sister also gifted me two @MacCosmetics eyeshadows. Though they are not as pigmented and creamy as the Colourpop ones I will definitely try it out and see if it makes it to my monthly favorites. The first shade is 'Creme De Violet' which is a purple shade with gold shimmers. I would not naturally go for a purple shimmer like this, but it is always fun to try new things and see how they work. The next shade is called 'Motif' which is a beautiful nude eyeshadow with a purple flex of colour. I've never seen a shade like this, I need to learn how best to wear these colours before wearing them in public LOL.
The Next Gift.
My beautiful friend Anisa gifted me with this Fenty Beauty Gloss Bomb in 'Fenty Glow'.
Honestly, all the hype around this gloss is real. It is AMAZING on its own and if you pair it with another lip product. I applied this the day after my birthday when I went out with my family and it felt really nice on and plus it looked beautiful! If you're able to get your hands on it I suggest you do so. When they say its a universal lipgloss they were not kidding!!
The Next Gift.
This gift was also given to me by my younger sister.
I've been wanting this liquid lipstick by Kat Von D forever now. I was never able to give in because I have so many other liquid lipsticks I couldn't think of spending money on it. Im super excited to finally have my hands on it, I have quite a few Kat Von D liquid lipsticks so I already know how pigmented and smooth they apply to the lips. The colour though is absolutely beautiful, I've seen it on so many of my favourite YouTubers and it looked so good on them so I had to try it out. NOW I CAN!
The Next Gift.
The Graveyardgirl Swamp queen palette was something that I wanted to include because of the way I received this gift. I had purchased this exact same palette from the Tarte Cosmetics website for my younger sister (because her birthday is a day after mine). When the package got shipped out it was sent back to Tarte company so it had to be resent. When I got the package finally I found 2 of these palettes in the box. SO I DECIDED ONE FOR ME ONE FOR MY SISTER! LOL Happy Birthday to me am I right?
The palette was not something that I intended on receiving obviously, but I love trying new makeup products and seeing which ones work for me and my skin. Once i try it, I will definitely let you guys know how I like it.
The Next Gift.
This was gifted to me by my older sister and brother-in-law. These are small beauty sponges that are in the shape of a heart (aweh soo romancî) that you can break in half. These are perfect for your under eye concuealr or powder, which I intend to use this for.
The Next Gift.
This was also gifted by my older sister and brother-in-law. It is a jewelry box that has love written on the top of the lid in black and gold glitter at each end of the lid. the box is fully mirrored except for the bottom and the inside. I use this to hold my favourite pieces of jewelry, which are my gold pieces and my Kurdistan earrings. it sits right on top of my makeup drawer, which makes it aesthetically pleasing. I love it!
This was purchased from Winners
The Next Gift.
This was gifted to me by my younger sister and if you know how much I love music and singing in the shower than you know how much I love this. It is a Bluetooth speaker that you can have in the shower with you because it is waterproof. You guys already know how much I blast my throwback music while im taking a shower. Thank God my father is not here because he would break down the door telling me to turn it down. LOL
The Next Gift.
This was gifted to me by my beautiful friend Anisa. She knew how much I loved Nashville (the show) because I could not stop talking about the moments leading up to Ranya dying on the show and how much I cried watching it (I probably watched it way too many times). SPOILER ALERT RANYA DIES! (SORRY LOL). I've watched Nashville ever since it started and so it was really sweet of her to get this CD for me knowing my large collection of CDs I have.
Another CD she got me is Selena (Quintanilla) CD 'LA LEYENDA' it has two CDs in it with all her music that I love. If you know me you know how much I love Selena and how much I listen to her music. Last year for my birthday my younger sister bought me one of her CDs so now I have two beautiful CDs I can listen to in my room. I love these two CDs so much and I defintely play them when I get the chance.
The Next Gift.
This Notebook from Indigo was gifted to me by my younger sister. It is so cute, and a perfect way to write down any website ideas I have or whenever Im in the mood to write creatively that I usually post on my The Diary Of A Kurdish Woman blog, which you guys should check out. She knew I'd like this gift because she saw me pick it up at Indigo and tell them how cute it is.
The Next Gift.
This really cute mug was gifted to me by my older sister and brother-in-law. It is a green (kinda yellow too) mug that says 'enjoy the journey life is a beautiful ride' and on the inside, it says 'One kind act at a time'. It is super cute and will definitely use when I finally get my hands on my favorite coffee. Im not a morning person so hopefully after this ill be exicted to wake up in the morning.
This was purchased from Home Sense.
The Next Gift.
This gift was given to me by my older sister and brother-in-law. It came in a set of 3 with the 'Beach Please' hand sanitizer the travel size of 'A Thousand Wishes' and 'Hello Beautiful' fragrance mist. They got this from Bath & Body Works obviously, they all smell really good and I have been using a lot.
The Next Gift.
I got these Tuff Athletic yoga pants from my older sister and brother-in-law. Very simple and something that I needed. They also got my a roots Canada sweater, but I can't seem to find it online for the life of me. Both are simple yet a necessity in someone's wardrobe.
The Next Gift.
This gift was given to me by my younger sister. It is a Selena Quintanilla vintage t-shirt. I love this design and the gorgeous photos of her with the iconic roses in the back. This will definitely add to my collection of Selena -t-shirts. I currently have 4 in total Selena Quintanilla inspired t-shirts that I wear. I love this shirt so much and already have a perfect outfit for it. LOOK OUT FOR THAT!
This was purchased from Royal Tees London
The Next Gift.
CAN YOU SAY EXTRA?
My older sister and brother-in-law gifted me with this extra Selena Quintanilla sweater. It is definitely a statement and over the top (get it top lol). It has all these amazing photos of Selena. Her with her family, band members, husband, Grammy awards, concerts, Music awards, and photo shoots. I know this is a crazy sweater, but honestly, I LOVE IT! it's exactly like me and my obsession with Selena so I might as well express it onto a shirt right? LMFAO I have yet to find a good way to wear this out, but I don't really think there is ever going to be a good way to wear this. I just gotta suck it up and struct the streets of Canada.
The Next Gift.
A KITTEN???
MY KITTEN! my brother got a kitten for my younger sister and I for our birthday. He knew how much we adore kittens so he adopted Pêshko, she is a female, was born in August and is the best thing that can ever happen to me. let just say though my mom wasn't too happy about seeing a cat in her home, if you know me you know my stuff cat named juju was not cutting it for me, I've been wanting a kitten forever. I will not let these allergies stop me from living life. As Parti will say #yolo
This is pretty much everything that I received for my 22nd birthday. I want to thank everyone who even thought of me to get me a gift, and who wished me a happy birthday. Let me know down below what you think, what you have tried, or what you want to see more of.
Don't forget to comment/like & Subscribe via email for more