Jihan & Dendars Wedding Party
"Nothing beats Kurdish culture likes its fashion"
I've started a new series on my website which I have named it "Kurdish Fashion". This will be a place where I can show my readers/subscribers the different Kurdish events that I go to (e.g. weddings, Newroz, 16 tabaxê, Sar Xanas, or parties). This is where I can express my passion for getting dressed up and dancing all night because that is what I do best. As my other blog posts are often times very serious, emotional, and intense I want this series to be a chill place to share amazing Kurdish fashion and continue to grow our love for Kurdish culture.
These posts will be added to this tab Wednesdays at 3PM EST as an additional post. If there are no Kurdish events happening than as readers/subscribers you will get the Monday & Friday posts still at 3pm EST.
This day was a wedding party of a good friend of mine, she had a small get together with just her family and close friends at a small hall. Before getting to the hall you already knows the Kurds in Hamilton need to go to the Hamilton view and take their pictures, which is exactly what happened.
This dress combination I LOVE!!! the mavi pink with a purple undertone is absolutely my favourite colour (ask all my friends half my regular tops are that colour). To pair that with a gold vîstan made me extremely excited to wear. Not only that, but this was my first time wearing that style belt around my waist, which brought the whole outfit together because of the gold colour that matched other areas of my outfit like my vîstan and jewellery.
The fabric and the belt were purchased in Kurdistan (Sîka Duhokê) and was sent to Canada.
Side note: I was loving the length of the dress because I can't stand when I can see my toes while wearing Kurdish dresses!! Is that just me? COMMENT DOWN BELOW LETTING ME KNOW IF YOU HATE THAT PROBLEM TOO!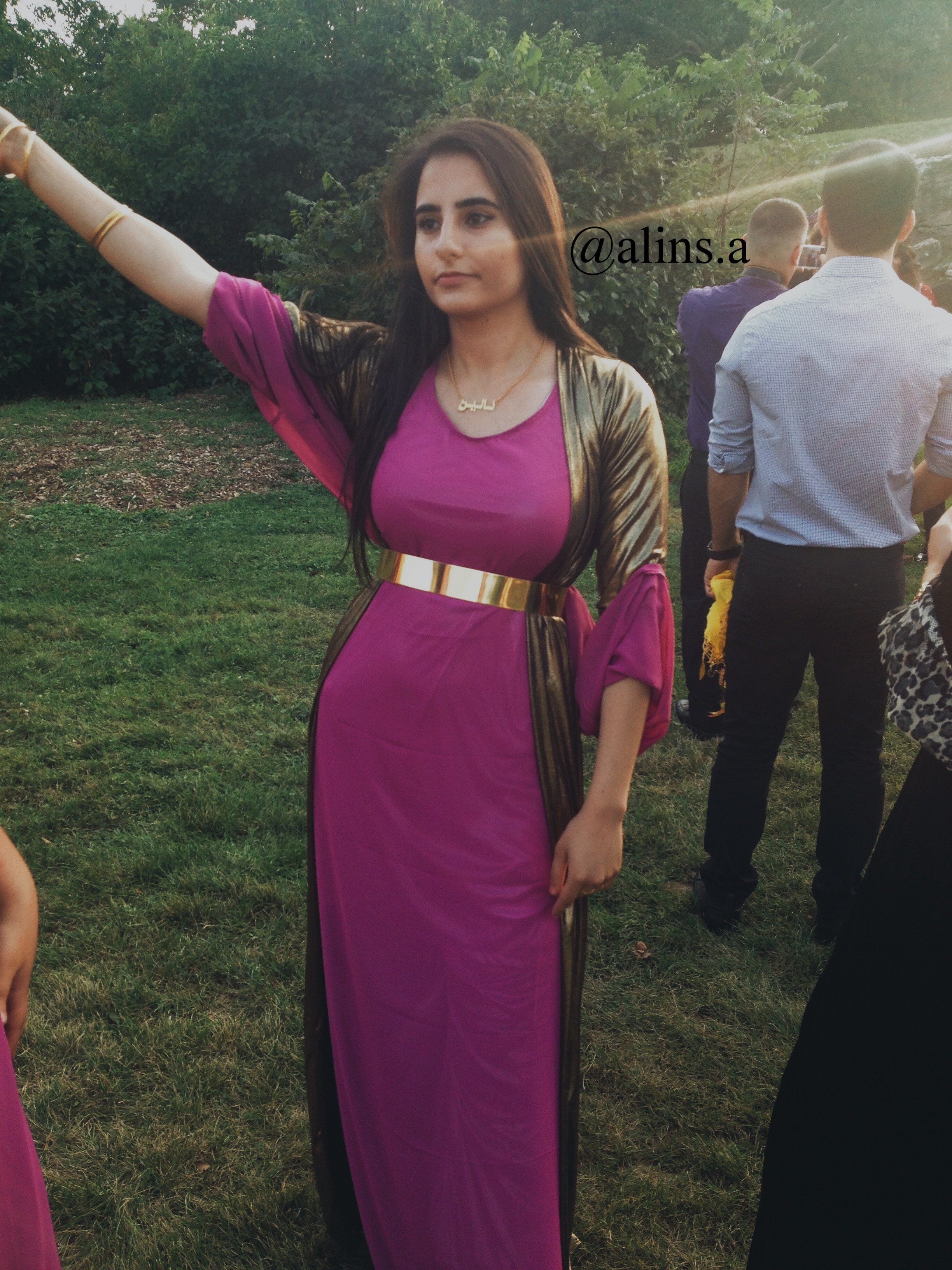 for jewellery I always keep it minimal as possible. I wore the necklace that my father bought for me in Kurdistan with my name in Kurdish, which i cherish very much. For my bracelets I was wearing I bought these in Kurdistan when I was there in 2012. To be honest pretty much all my jewellery is from Kurdistan, I've collected so many jewellery pieces over the years because I have gone to Kurdistan so many times its getting alittle crazy.
BUT... I honestly don't even know what I was doing in the second picture LOL. My sister was just taking a punch of random pictures of me acting silly with my brother-in-law in the back. I know what you guys are thinking "I thought that was your security guard". No, but he does have my back like a security guard. He's my favoruite brother-in-law (this is what you say when you only have one brother-in-law).
YES WE WERE MATCHING!!
 
I was matching with my other good friends, you could say we were bridesmaids even though it was not a wedding. Not to mention if you are a Kurd and reading this you already know that Kurds will literally dance anywhere no matter how many individuals are giving them dirty looks... trust me I know.
I had such an amazing time though, any excuse to get dressed up and dance I am all here for. Cant wait for the next time I can dress up again and dance. When that happens you know where to find my outfits and what I was wearing.
(A.K.A ON https://www.kurdishdream.me/fashionblog/)
Thank you for reading my very first Kurdish fashion blog post, leave me a comment down below what your favourite colour combinations are for Kurdish dresses. I would love to read some and maybe use those colours for the next event.
- Ale